We just survived another 8 inch snow storm here on the East Coast!
To say the least, my dog has not been happy on her walks…
Doing one's "business" on a snow covered sidewalk is no fun for anyone! hehe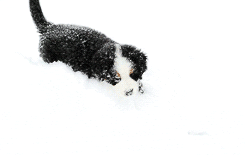 Recently, I read a story in Colorado Meetings+Events from Keith H, from The Arrangers.
While running a conference for 100 people in Aspen, a snow storm came up out of the blue.
Consequently, there was a group of guests that needed to catch their rescheduled flights the next morning out of Denver. Chain laws were in effect and their vans and buses did not have chains with them.
As a result, he had to make some quick decisions on how to get these attendees to DEN to catch their flights.
With little time to spare, he improvised.
To make this fun, which one of these action plans do you think he implemented?
A. He rented snowmobiles and transported people to Glenwood Springs to take the train back down to Denver.
B. Everyone missed their flight and they had a big slumber party for two days until the roads reopened.
C. He had his office in Vail rent some Hummers and drove them to Aspen. Additionally, he also negotiated a trade for vehicles in Aspen that had chains to replace his current chainless minivans.
Answer: C
The best planners in severe weather areas are always prepared with back up plans and alternative dates just in case a storm strikes.
They most always put together a risk assessment worksheet before an event. (Email me for a sample one)
The risk assessment worksheet ensures that you are prepared for all of your event's potential pitfalls and provides ideas for backup plans.
Here's to preparation and planning!
Best,
Justin
PS – And speaking of backup plans and weather, eliminate a potential avalanche of annoyed guests checking in at your event because of a long and sloppy check-in line. Dig out from under your paper lists and check out the app that over 16,000 event planners are using. http://www.checkineasy.com
Justin Baer
Founder, CEO
Check In Easy Guest List & Event Check-in App
http://www.checkineasy.com
P: (800) 610-8587 x3
Justin@CheckInEasy.com
"Your app made such a difference at our Annual Sales Leadership Conference in London. We were able to check in our 250 delegates using our iPads in a matter of minutes. The user-centric search function made the process incredibly speedy and we added in additional notes such as their job title, and highlighted our Executive Leadership Team (VIPs). Thanks again – we will never have to use hard copies and pesky Excel spreadsheets again!"
- Lindsey Chynoweth, Event Specialist, Thomson Reuters
"I am finally back in the office and wanted to THANK YOU so much for your help with the system.  It was a huge success and a hit amongst press people and other internal departments alike."
- Tamika Young, MTV Communications
"The Check-In Easy app not only expedited our check in process by eliminating those dreaded long lines but looked incredibly sleek and sophisticated too. In comparison to previous events, this was our most efficient check in system to date and more importantly gave us real-time attendee numbers. We'll never go back to paper lists again!"
-Jennifer Pack, Manager, Strategic Marketing, NBC Universal