It's here…holiday office party time. With 4 weeks until Christmas, planners are busy putting together what we hope is the most epic company holiday party ever.
We are seeing some really cool trends that might help pour a little fun on you otherwise boring party.
1. Use this easy tool to gather all your guest's photos in ONE album
It's all about engaging your guests – Have your guests use the Eversnap app to collect all the photos & videos from the party in ONE real-time album. Eversnap is available on iOS, Android, web, and mobile web. It even has the ability to let users contribute by emailing photos to an album. You can also project a live slideshow of everyone's photos on a TV/projector screen as they are being taken!  Check it out at http://eversnapapp.com (use the code Snap20 for 20% off)
2. Themed holiday parties can be fun
Ugly holiday sweater parties are actually still in style. It's fun, festive and it creates a natural ice breaker for the engineering department peeps who usually don't speak to the marketing folks. And who doesn't love wearing a puff painted snowman mock turtle neck?! Other themes trending: Christmahanukwanzaa & Holiday Karaoke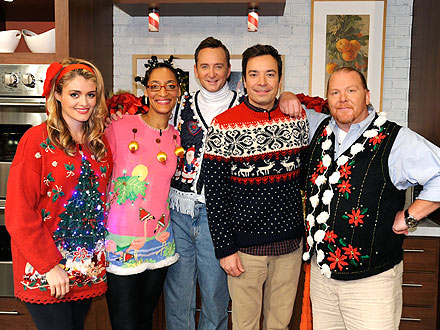 (Photo: People Magazine)
3. Giving Back
Do a canned food drive. Your company is not just about helping customers. It's also about helping people. Have a simple canned food drive at the entrance to your holiday party. You could do a simple contest, like bring 10 cans and get a $5 starbucks gift card.
4. Goodie Bag's aren't just for children
Add a fun take away like a meaningful meaningful gift from watsibely.com's (Watsi + Goldbely) Holiday Gift Package which features epic snacks from across the USA curated by the Goldbely.com team. Each gift you buy for your event guests will have all proceeds go directly toward saving someone's life through Watsi!
Other option: There are some really cool onsite activities from photo booths to make your own flip-books. Other trending activities: Create your own snow globes, decorate a ginger bread house, green screen pictures. For flip books, check out http://goflipyourself.com/
5. Get your music right for once
Ditch the boring holiday music. It's boring, no fun and you'd be surprised as to who came to life at your party with a little Beyonce playing. Get a RequestNow holiday account and let users swing by the drinks table to request songs.
6. Party at the office? Try this
A large percentage of holiday parties are occurring at the office. If this is the case, some inexpensive fun pranks make for a memorable event. Turn your conference room into a holiday snow globe! All you need is an industrial blower and styrofoam peanuts.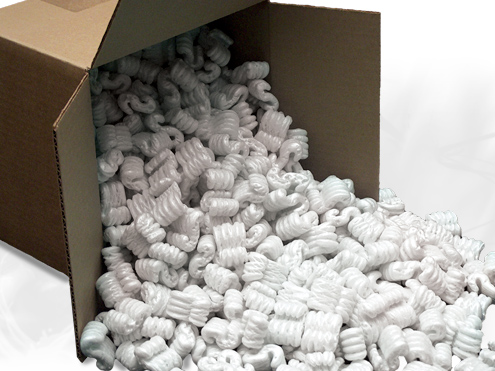 7. Cocktails Schmocktails.
Alcohol is usually a must if you want people to let their hair down. But this year, don't just have a boring open bar. Have the various departments at your company come up with a specialty cocktail that represents their team. #teambuilding. For instance: the engineering team might want to have an assortment of Belgian Enginbeers. Use BarNotes to find the best recipes.
Here are a few great recipes suggested by Peter Bodenheimer, the CEO of Barnotes.
http://barnotes.co/recipes/clyde-common-egg-nog
http://barnotes.co/recipes/seasonal-rum-sour
8. Coolest holiday dessert I've seen this year!
Still a trend is mini desserts. Mini doughnuts, pies, ice cream sandwiches, and yes, ugh mini-cupcakes, although that is so 2011. The 'All The Cooks' IOS and Android app is a great resource for tons of holiday recipes. Check out these super cute Strawberry Santas (recipe below).
http://www.allthecooks.com/vickys-strawberry-santas-with-dairy-free-option.html
Some additional recipes from the AlltheCooks team
http://www.allthecooks.com/vickys-gingerbread-men-with-christmas–halloween-ideas-gluten-dairy-egg–soy-free.html
http://www.allthecooks.com/vickys-christmas-yule-log-dairy-egg-and-soy-free.htm
9. Ditch your ugly paper guest list this year with the Check In Easy App
It's 2013, not 2008! So ditch those horrible looking printed out guest lists and ugly brown clipboards at your event's check-in. With Check In Easy, you can create a killer first impression, have your list on multiple iPads or Android devices all syncing so party crashers beware and click a button at the end of the event to export an excel file which will show you who checked in and at what time.